We did it! 14 people from the course got their designs into the group submission, and the project was accepted for fabrication. Silicon here we come!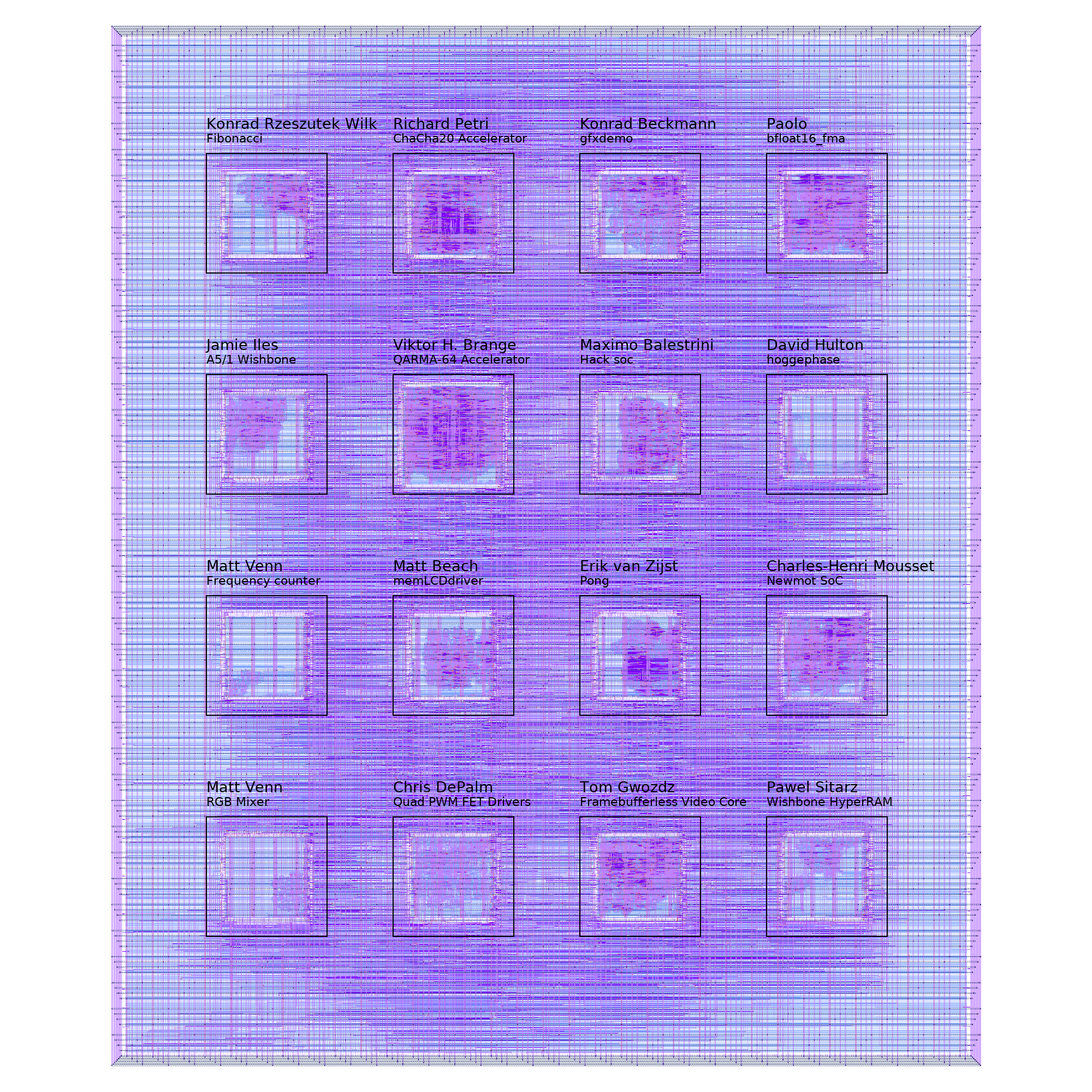 You can get all the details on all the projects submitted to MPW2 here - you'll need to select the MPW2 filter.
And see how I put the application together here, with the repo here.
Project listing
RGB Mixer
Author: Matt Venn
Description: reads 3 encoders and generates PWM signals to drive an RGB LED
Frequency counter
Author: Matt Venn
Description: Counts pulses on input and displays frequency on 2 seven segment displays
A5/1 Wishbone
Author: Jamie Iles
Description: A5/1 cryto block connected via wishbone to PicoRV32
Fibonacci
Author: Konrad Rzeszutek Wilk
Description: Fibonacci emitter connected to [37:8] and controlled via wishbone
Quad PWM FET Drivers
Author: Chris DePalm
Description: 4 PWM FET Drivers for Power Applications
memLCDdriver
Author: Matt Beach
Description: SPI to 64-color memory LCD interface
QARMA-64 Accelerator
Author: Viktor H. Brange
Description: Implementation of QARMA 64
ChaCha20 Accelerator
Author: Richard Petri
Description: A minimal Wishbone connected ChaCha20 accelerator
Framebufferless Video Core
Author: Tom Gwozdz
Description: A framebufferless VGA video generator, under CPU control
Pong
Author: Erik van Zijst
Description: A hardware implementation of Pong
Hack soc
Author: Maximo Balestrini
Description: Hardware implementation of the Hack Computer from the Nand to Tetris courses
gfxdemo
Author: Konrad Beckmann
Description: gfxdemo
Wishbone HyperRAM
Author: Pawel Sitarz
Description: Simple HyperRAM driver accesible on Wishbone bus
Newmot SoC
Author: Charles-Henri Mousset
Description: Simple SoC dmonstrating a Stepper Motor step/dir generator, and litex wishbone / uart / pwm
hoggephase
Author: David Hulton
Description: Hogge Phase EMFI/BBI Glitch Detector
bfloat16_fma
Multi project tools
This time around submission was a lot easier and nerve-wracking than MPW1.
Part of that was because I have the whole procedure pretty much automated with the multi project tools.
These tools can run a set of tests including:
LVS
GDS size and layers
Outputs Z when not selected
Formal connectivity check
Module tests
Caravel context tests
Module interface is correct
Documentation is available
Then I can run a single command to copy all the GDS, LEF and generate the config file for OpenLANE.
./multi_tool.py --create-openlane-config --copy-gds  --force-delete

Routing all the macros takes about 15 minutes, and running all the tests of all the designs takes about 60 minutes.
It wasn't all smooth sailing, we had a few last minute changes including adding IRQs, a new user clock, and dealing with unwanted buffered outputs.
I put together a video to describe the process:
Awesome blender renders!
Course participant Maximo put together some lovely images here by converting the GDS to STL and then rendering inside blender.
some renders of the multi-project design presented by @matthewvenn for the @Google , @efabless & @SkyWaterFoundry MPW2 (last photo is my square) pic.twitter.com/g7RhRQGI6J

— Maximo (@maxiborga) June 24, 2021
more ASIC renders of the multi-project design from the zero to ASIC course
visible layers: li, m1, m2, m3 (m4 just for the highlighted activation lines) pic.twitter.com/OAw3TGHCCY

— Maximo (@maxiborga) July 7, 2021